As part of our continuous commitment to provide better services and experience to our valued clients, we have been working hard over the past year to create a brand new infrastructure with the functions, speed and scalability that will serve you far into the future.
After almost a year of planning, building and testing, we have finally completed our new Calibration and Warranty platform, the Andatech CalTrace.
With that, today marks the official shut down of the Andatech Hub (or My Andatech) that has been in use since 2012.
Reasons for upgrading the Andatech Hub
For eight years, the Andatech Hub served as the central bridge of our various business processes including products, warranty, calibrations, orders, and shipping.
When the Hub was launched, it was a much simpler platform with just a few core functions. As our business continued to grow and evolve, the Hub underwent more and more additions and updates to cater to our changing needs.
Gradually, the Hub became slower to load and more frequently inundated with minor bugs that needed fixing. At the same time, new technologies were emerging that were difficult to be integrated into the Hub's existing infrastructure. Over time, the Hub became harder to maintain and more difficult to upgrade, costing our team valuable time and resources.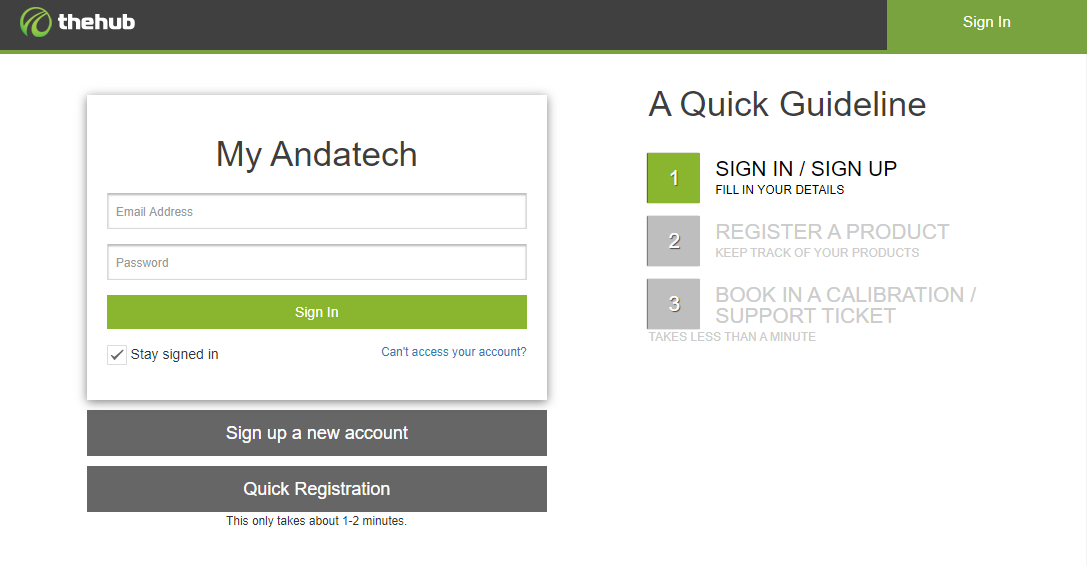 My Andatech Hub - Log in page
Due to these reasons and various other factors, it became Andatech IT's mission to build a new system that would be faster, more user friendly, and easier to customise.
More importantly, the new system needed to be scalable so that it could grow and evolve alongside our changing business needs.
After thousands of hours spent on planning, development and testing, we're very proud to announce the launch of the Andatech CalTrace.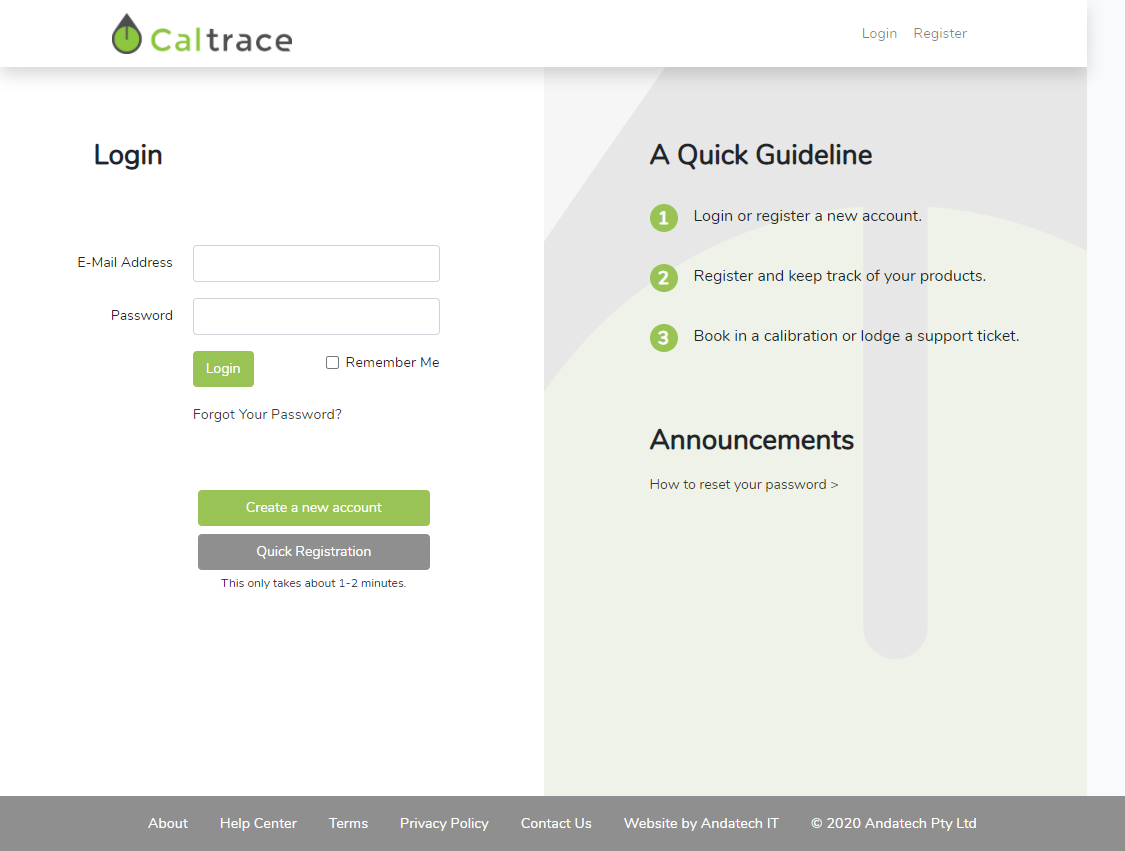 My Andatech CalTrace - Login page
Although CalTrace has the same functions as its predecessor, its user experience, loading speed and back-end functionality are now vastly improved. Additionally, all company and customer data have been migrated over to CalTrace to allow for a seamless customer experience.
If you are an existing user on the Andatech Hub, all you need to do to start using CalTrace is to set a password for security purposes.
Go to CalTrace to reset your password using your My Andatech user email address, or see: How to reset your password
After logging in, users from the Andatech Hub system will be able to see their contact details, products, and past services on CalTrace.
Current Status
While our team completes the finishing touches of the migration, there may be some elements on CalTrace that are temporarily inconvenient and frustrating for you over the next few days, and we sincerely apologise for these in advance. However, know that this upgrade is absolutely necessary and beneficial for our system in the long term.
We thank you for your patience and understanding and would like to assure you that we are doing everything we can to make this as smooth as possible.
Issues or bugs
We have tested our platform rigorously and are aware of a few remaining minor bugs that we are working to fix. We will respond to questions, prioritise the bugs and get them all resolved as quickly as possible.
If you have any additional feedback or suggestions, please feel free to contact us through our support form.