Drink driving is a major issue in Australia, contributing to approximately 27% of fatal crashes in the country. Drink driving trends have continued to worsen over the years, and the recent rumour that drinking light beer of any quantity allows patrons to stay below the legal limit to drive has become another cause for concern.
This is not true. Light beer still contains alcohol and will not ensure that your BAC remains below .05.
The Victoria Commission for Gambling and Liquor Regulation (VCGLR) addressed this issue in their latest newsletter, warning that "drinking an alcoholic beverage of any strength will increase the amount of alcohol in the blood system".
Driver education on alcohol and its effects on the body is so important now more than ever yet surprising as drink driving has long been a problem in Australia.
Your BAC (short for blood alcohol content / concentration) starts to rise as soon as you start drinking, and it can take 30 minutes up to 2 hours after you have stopped drinking for your BAC to reach its highest concentration.
There is no safe way to guess your BAC other than by using a BAC tester such as a breathalyser.
Alcohol affects everyone differently and your BAC is highly dependent on various factors including weight, liver function, health, number of drinks, gender, and previous meals.
For further information, you can read our articles on Breathalyser FAQs and What is a Standard Drink.
Make sure you test your own BAC with a breathalyser before you go behind the wheel.
Light beer can still push you over the legal driving limit. It still has alcohol in it so drinking over a longer period of time will still push you above 0.05.
Quality fuel cell breathalysers will be able to tell you your BAC accurately and quickly so that you can make an informed decision before you drive.
Get a quality AlcoSense personal breathalyser – these provide accurate, alcohol-specific 3 decimal point BAC readings. Test yourself at least ½ hour after your last drink but before you drive.
Make sure your passengers are safe.
Make sure your family is safe.
Make sure you are safe.
For more information on breathalysers, please contact us. Or visit our breathalyser collection to view our full range.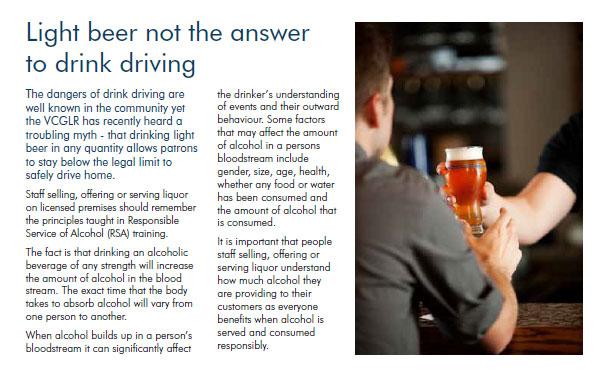 source: VCGLR News – Autumn 2013
References:
http://www.theage.com.au/victoria/punters-confused-by-light-booze-20130515-2jmd4.html
VCGLR Newsletter Autumn 2013: http://www.theage.com.au/victoria/punters-confused-by-light-booze-20130515-2jmd4.html