The CDC recommends that everyone (regardless if they are sick, or if they are healthy) wear a face mask in places where it can be hard to stay 6 feet away from others, such as public places. This is due to recent studies showing that people may spread coronavirus even if they don't have symptoms (called asymptomatic) or before they have symptoms (called pre-symptomatic). In fact, you might be the most contagious just before symptoms begin.
Before you purchase a mask, learn which type is best and how to wear it.
How a Face Mask Works
When someone who has any virus, speaks or sneezes, they spread tiny droplets with the virus into the surrounding air- that's where face masks come into play.
A face mask covers your mouth and nose- blocking the release of virus-filled droplets into the air when you cough or sneeze- helping slow the spread of the virus
Different Types of Masks
N95 respirators and surgical masks should be reserved for health care workers and first responders. Because there aren't enough of these masks for everyone, it's important that they go to the doctors, nurses, and other medical staff who need them most.
N95 respirator masks fit tightly around your face. They filter out 95% or more of the smallest particles in the air, but they have to fit just right in order to work.
Surgical masks fit loosely across your nose and mouth. These masks shield against the large droplets that come from a sick person's cough or sneeze, but they're too loose to protect against all germs. Surgical masks are primarily used by OR staff and have two straps that secure the mask to the face instead of loops. They are intended to protect against a high risk of fluid exposure.
Procedure masks are easily identifiable by the presence of two ear loops to secure the mask to the face and are used on hospital floors, isolation units, and labor and delivery units, among other areas of the hospital. Additionally, these masks may be used in the emergency department and the intensive care unit for bedside procedures. However, they are not suitable for use in the operating room.
Various Mask Rating Levels
ASTM is an International Standard, which tests products to improve overall safety and quality. ASTM defines more than 12,500 international standards across a wide variety of services and industries, including barrier protection standards for medical masks.
What follows are the three levels of ASTM face mask barrier protection:
Level 1: low-level barrier protection for general use for low-risk, nonsurgical procedures and exams that do not involve aerosols, sprays and fluids. An ear loop mask is a level 1 mask. ASTM level 1 masks are the general standard for both surgical and procedural use.
Level 2: moderate-level barrier protection for low-to-moderate levels of aerosols, sprays and fluids.
Level 3: maximum-level barrier protection for any situation that has the potential for exposure to heavy levels of aerosols, sprays and fluids.
If produced as per the standard NF EN 14683, surgical masks are designed to prevent the wearer from spreading droplets from coughing, sneezing, etc in the vicinity. It also protects the wearer from droplets produced by a person directly in front of them.
However, depending on the circumstances, it does not protect from inhaling the very small particles suspended in the air that potentially carry the virus.
There are three different types of surgical masks that fall within the EN 14683 rating:
Type I: bacteria filtering effectiveness > 95%.
Type II: bacteria filtering effectiveness > 98%.
Type IIR: bacteria filtering effectiveness > 98% and splash-resistant.
Below is a chart that compares and maps out the differences in testing requirements between ASTM and EN: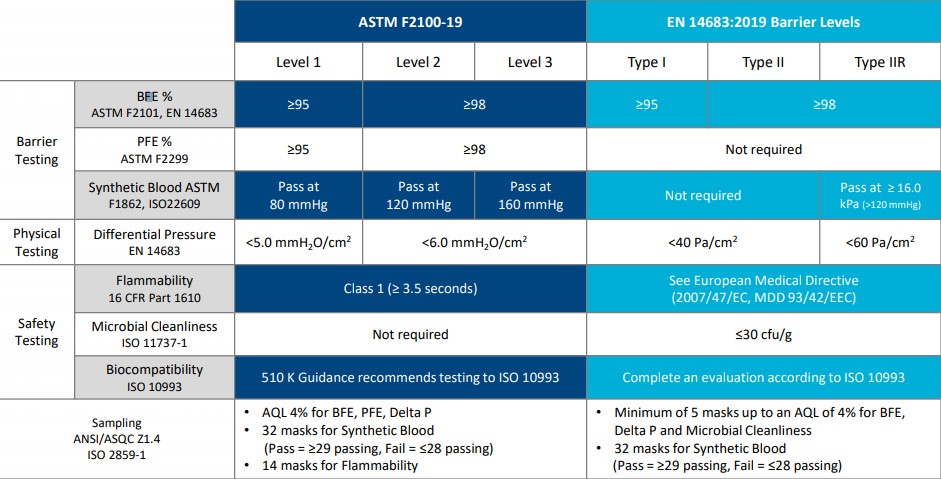 Source: Face Mask Testing Requirements
If you would like to take a look at our face mask offerings here at Andatech, click here.
References:
- CDC, Homepage
- FDA, Protective Equipment Infection Control
- ASTM, ASTM Standards
- Becker's Hospital Review, The 4 "F's" of Facemasks
- Hopkin's Medicine, Coronavirus Face Masks- What You Need to Know
- Afnor Group, Protective Masks: Faced with Coronavirus, Standard Development Bodies Follow Multiple Leads
- Afnor Publishing, Medical Face Masks Requirements and Test Methods
- Nelson Labs, Face Mask Testing and Requirements
- Sai Global, Medical face masks- requirements and test methods