There are multiple reasons why it is important to practice responsible service of alcohol (RSA) but they mostly include that first, it is the law and RSA is compulsory in any state and territory. It helps to create a healthier and safer working environment for you and the staff and it provides an establishment that is comfortable and safe for all customers and staff to be in. It helps to also reduce any social problems and costs that are related to any excessive consumptions of alcohol and it helps to ensure that customers are legally allowed to drink.
Duty of care
RSA provides a duty of care to the customers and the staff. Promoting RSA in your bar, club, pub or venue shows that the business demonstrates a professional, caring and responsible approach to serving alcohol.
Owners and staff of venues that serve alcohol also have a duty of care to their customers and patrons. Duty of care is known as your legal obligation to take the reasonable care for avoiding foreseeable harm to any other person and their property. It goes hand in hand with negligence, which is the failure to take the reasonable care for the well-being and safety for others. For example, if an arbretraited person is allowed to stay on the grounds then the potential harm to staff and patrons goes up.
What does this mean for owners and staff serving alcohol?
If a customer has been drinking alcohol served at your business, leaves, gets behind the wheel, and causes an accident, your business could be held responsible. A restaurant in Pittsburgh was ordered to pay $15.6 million after a drunk customer drove away from the restaurant and caused an accident that killed a 7 year old.
Not only do you not want that sort of accident on your conscience, but you likely can't afford to pay a sum that high, either. You must make sure drunk customers have transportation—either in the form of a sober friend or from a cab. Let the customer know that their safety is important to you and escort them to the cab yourself if necessary.
RSA Training can only go so far…
RSA courses cover legal requirements of the sale and service of alcohol, harm minimisation and duty of care, anticipating problems and managing patrons, and assessing and monitoring the levels of intoxication of patrons. But realistically, if a bar has hundreds of patrons in a single night and several bar staff serving different customers, how is it possible to manage and monitor levels of intoxication responsibly?
Keep in mind that levels of alcohol intoxication are greatly influenced by individual variations among users. One can appear sober but may still be over the legal limit. Moreover, bouncers and bartenders may only be looking for physical signs of intoxication in patrons, such as slurred speech and lack of motor coordination, and not be able to identify patrons who leave the bar drunk because they didn't have these obvious physical signs of intoxication.
Protect your patrons
Bar breathalysers are a good way to arm people with information right at the point of consumption. A bar breathalyser is not going to hinder patrons from drinking – rather, it will encourage them to be responsible. If they used a breathalyser, saying "I didn't know I wasn't OK to drive" would no longer be a valid excuse.
Additionally, having a breathalyser in your bar can help to confirm your staff's decisions to not serve a particular patron alcohol if they suspect that he/she is intoxicated. This is especially useful when dealing with difficult drunk customers.
A bar breathalyser costs $2 to use, but remember that an average DUI costs thousands of dollars and demerit points. In Victoria, it will become mandatory for all drivers found drink driving to install interlock devices in their cars. Previously, only disqualified drivers found to be over 0.15%BAC, repeat offenders, and drivers under 25 who record 0.07%BAC were required to have these fitted.
It's good for the bar, too. Say a patron takes off drunk and winds up with a DUI. That customer wont be back for a while if he or she got arrested and that's lost business right there. So it pays off in the long run.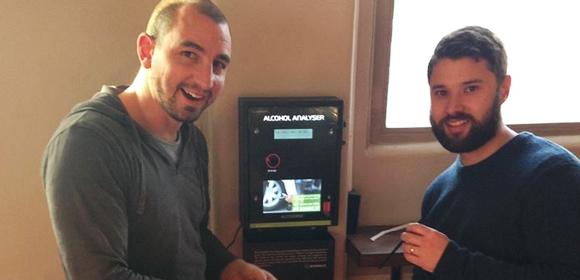 The Soberpoint Initiative
Andatech has just introduced the Soberpoint Initiative for local bars, clubs, pubs and venues. With zero cost to install, licensed venue owners get to benefit from promoting RSA and duty of care, plus help protect their patrons' safety just by installing an AlcoSense Soberpoint bar breathalyser in their venue. Check them out below!
If you own or work at a licensed venue, it's time to get involved. With stricter laws for all drink drivers in Victoria, the time to help your patrons stop drink driving is now.
Read more on how to get a breathalyser vending machine in your licensed venue for free.