October is National Safe Work Month in Australia, and Andatech is taking this time to focus on health and safety in our own workplace.
Held every October, National Safe Work Month is dedicated to encouraging individuals and workplaces to raise awareness of work health and safety.
Workplace health and safety is important in all companies and industries, not just those that are safety critical.
According to Mentally Healthy Workplace Alliance, untreated mental health conditions cost Australian employers $10.9 billion every year through absenteeism, reduced productivity and compensation claims. Other effects of a mentally unhealthy workplace include poor morale and staff engagement, high staff turnover and potential penalties for breaches of work health and safety legislation.
As a company that specialises in workplace safety and health products and services, we're encouraging our team and our clients and partners to get involved in National Safe Work Month and help spread its awareness.
The theme for National Safe Work Month this year is 'Be safe. Be healthy. Because…' This allows you and your workplace to personalise the theme by adding your own reasons for being safe and healthy at work. There are many reasons why being safe and healthy at work is important, what are yours?
At Andatech, we are remembering to Be safe. Be healthy. Because life matters. We matter.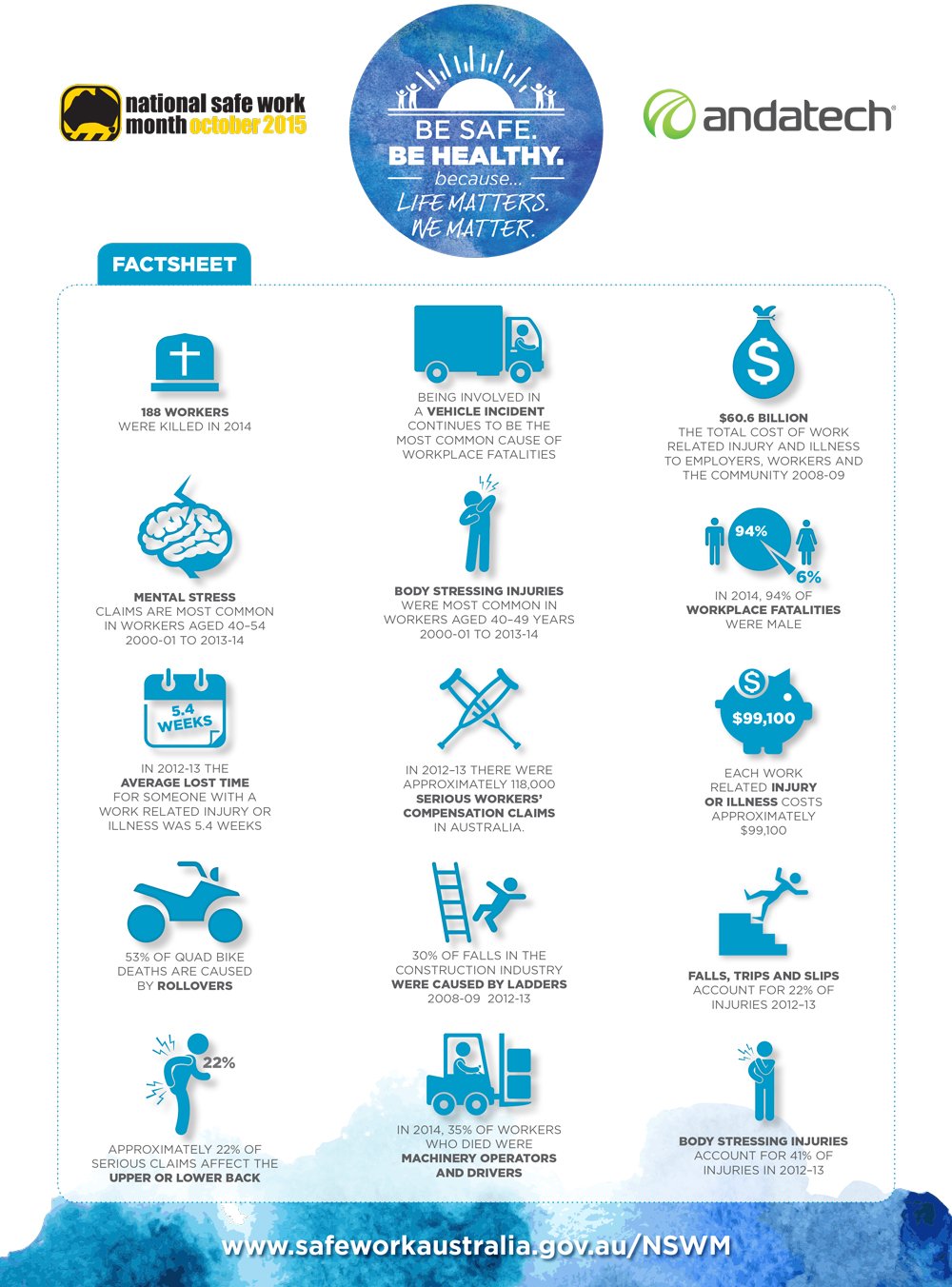 As a fairly close knit team, we treat each other like family and we all matter to each other. We've even become closer to each others' families through yearly Andatech gatherings that bring all of us, our partners, and children together!
To us, workplace health and safety is not just about following the rules or being open about our feelings. It's genuinely caring for each other, helping and supporting one another during and outside of work, and trusting each other.
Health and safety is so important in the workplace and although we already do our best to implement this in our daily processes, National Safe Work Month is an excellent reminder of how crucial it is to the company and to ourselves.
To get involved yourself, head on over to the Safe Work Australia website for more information.
Have something to add to this story? Tell us in the comments section below!