If you haven't already heard, there's a pretty cool app to track your drinking over time to understand the impact it has on your health in both the short and long term.
We've tested it out for a few weeks, and what can we say – we feel like a better person already!
After 2 weeks of testing, the app has helped us save more money and drink less, too! Definitely what we needed to start drinking again slowly after last month's OcSober break from alcohol.
So what is this app that we're talking about? The app's name is quite a mouthful – "On Track with the Right Mix" – and what it does is it tracks your drinking and spending, while giving you some educational information on standard drinks, alcohol, and even has a page with numbers and organisations you can contact for help.
It's developed by the Australian Government Department of Veterans' Affairs and has been around for a few months.
Other than tracking your drinking and spending, it also calculates a wellbeing score based on a Theoretical Blood Alcohol Concentration (TBAC) calculated using Widmark's equation and modified gender-specific elimination coefficients.
This score helps the user understand the extent to which their drinking patterns may or may not be having an impact on their health and general wellbeing.
Though the calculations in the app are best estimates only, they serve as a great guide when you're out drinking.
It should not be used as legal evidence, and the user should keep in mind that individuals can vary widely in their personal alcohol tolerance. Food in the stomach, medications, health and psychological conditions can also be influencing factors.
If you're after a better estimate of your own alcohol level, use a breathalyser to test your BAC on the spot.
After using the app, our final thoughts are that it is very useful and we definitely see its value as being beneficial, especially if you drink regularly. Needless to say, we're now using the app whenever we're out for drinks 🙂
Here's some details about the app, and why you should download it if you drink regularly.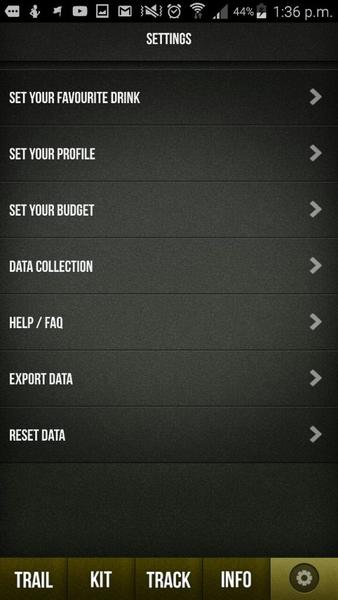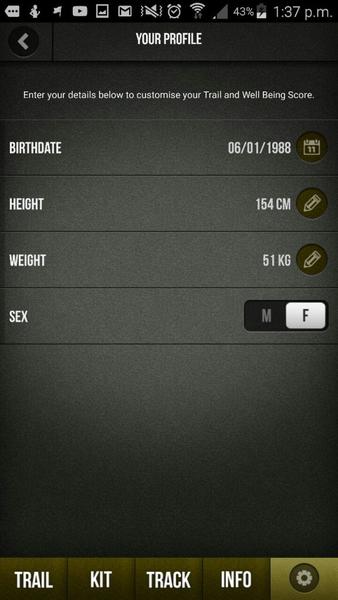 When you first download and open the app, you can set your personal details on the app – namely your biodata, favourite drink, and even your budget.
The details about your age, height, weight and gender help the app to calculate your wellbeing score on a night out.
Setting your budget helps the app keep you on track and helps you track whenever you've exceeded your budget. Very useful if you tend to "magically" run out of cash the day after drinking.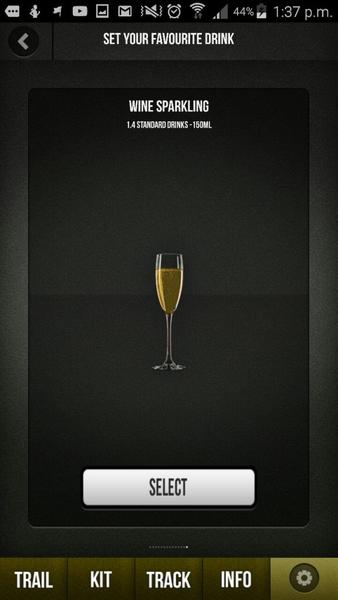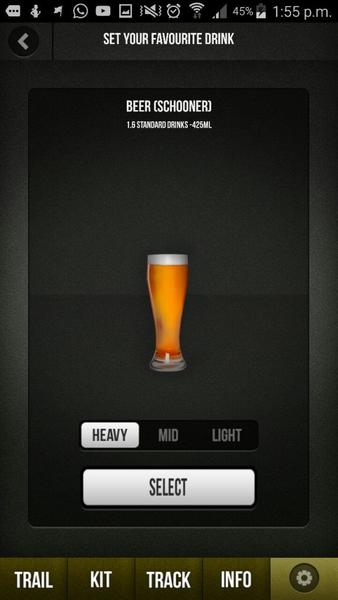 You can also set your favourite drinks from the app. This helps make it easier to track your drinks later on, as you don't have to scroll through tons of drinks to get to the one you're after.
The range of drinks you can choose from is good, as it includes almost everything you can think of such as beer, cider, wine, sparkling wine, cocktail, and spirits.
For beer, you can even choose the size that you're drinking (pint, pot, schooner, stubby) and its type (heavy, mid, light).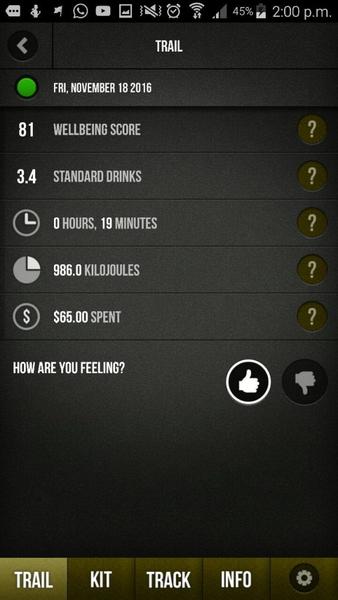 After that, you're set to go! The idea is that every time you have a drink, you log it in the app under the "Track" tab. You can choose your usual favourite drink, or a different drink. It'll also prompt you to add the price that you paid for the drink.
You can then go to the app's "Trail" tab to see how you're doing that night. It'll show you your well-being's score, how many standard drinks you've had so far, in what time span, how many calories you've consumed, and how much money you've spent.
If you tap on the kilo-joules part, it even tells you the time and distance you'd need to run in order to burn off those drinks! Imagine our horror when we were informed that it'd take 37 minutes of non-stop running over 7kms to burn off 2 glasses of wine and 3 pints of beer.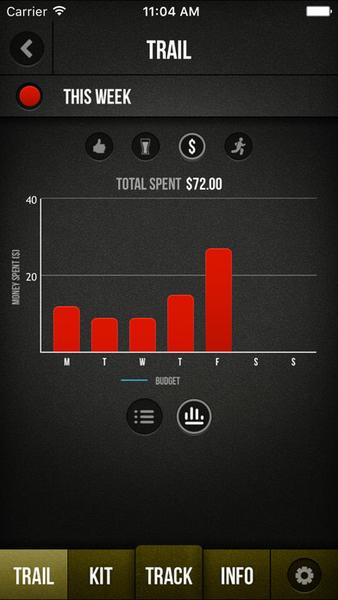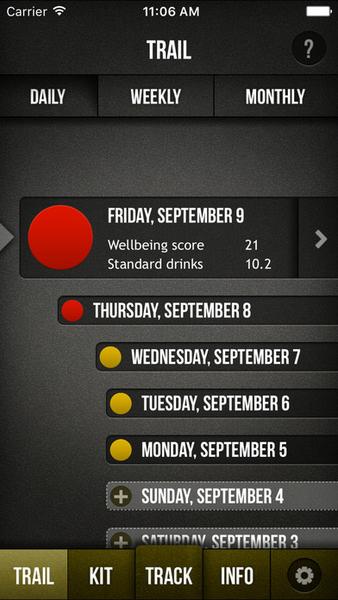 After a few days or weeks, you can look back at the app and see a better overall view of your drinking habits and spend over a day, week, or month.
The app is also useful in that it helps you track your budget and how much you've spent, and whether you've gone over that budget.
What we found really useful was the standard drinks it tracked. As you may already know, it's recommended for healthy men and women, to drink no more than four standard drinks on a single occasion in order to reduce the risk of alcohol-related injury arising from that occasion.
What we didn't realise before using the app was how easy it was to go over 4 standard drinks in just a few hours. We realised then that we had probably been drinking an average of 6 to 8 standard drinks per occasion every time!
Needless to say, it was a real eye opener.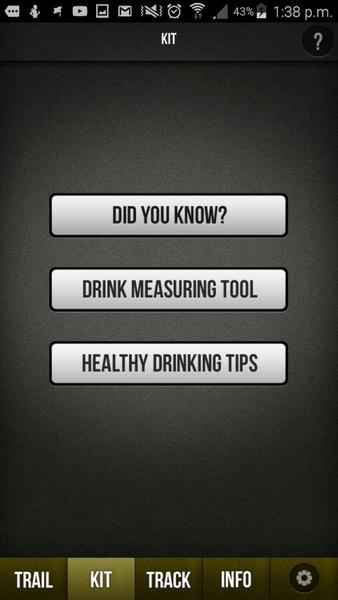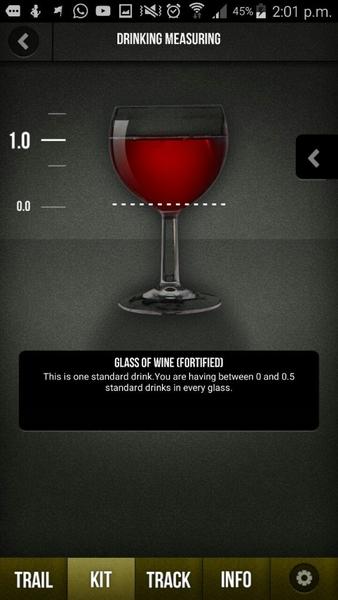 The app is also useful as a means to educate yourself on alcohol consumption. Under the "Kits" section, you can learn some facts about alcohol, binge drinking, and the effects of alcohol.
There's also a a section for healthy drinking tips, and an interactive drink measuring tool which assesses your understanding of what is a standard drink.
Overall, the On Track app is easy to use and to understand. What's valuable about it is how it can give you an insight into your drinking and spending habits when it comes to alcohol, and push you to review and change them.
It's useful for anyone who drinks, even if it's on a not-so-regular basis. You'll be shocked and amazed at how easy it is to consume more than the recommended amount of standard drinks in just a few hours.
Available to download free from the App Store and Google Play.
For more information, contact Andatech on 1300 800 200 (AU) or +613 8899 6900 (International). Alternatively, email us or visit the website andatech.com.au.